Bryant Car Stereo was founded by Mark Carter in 1993. Mark got interested in car audio at a young age.  Whether it was in his Samuri, Mustang, 300Z, or the Viper that he owns now, the stereo system was the first thing he turned his attention to. It was during this time that Mark learned the value of quality products and sound installation. When Mark graduated high school he decided to open his business in Bryant, AR on Reynolds Road next to Sonic. Mark built his new store on I-30 in the heart of Bryant in 1995.  Mark has always understood that quality customer service and exceptional value is the key that drives a great business.  Understanding that, along with many years of hard work and dedication Bryant Car Stereo has become Arkansas premeire car audio retailer.  With an extensive collection of new and used car audio equipment, we have the product that is right for you.
Staff
Bryant Car Stereos knowledgable staff boasts over 40 years combined experience.  Mark Carter is the owner and he is definately hands on, but he is confident his crew can take care of you.  Our manager Matt is always busy making sure that we have the most cutting edge products and services.  Gary is the sales manager and he is always there to give you one on one attention and make sure you get exactly what you need.  If installation is what you are looking for, look no further.  Our installation manager, Derek, has been with us for over a decade and his attention to detail is what has made him one of the best installers in the state.  Ricky learned installing from Derek and has become very good himself.  He is sure to spend plenty of extra time to make sure everything is done right.  So whether you are looking to buy, have something installed, or you just need a little friendly advice, come see the guys at Bryant Car Stereo.






SHOWROOM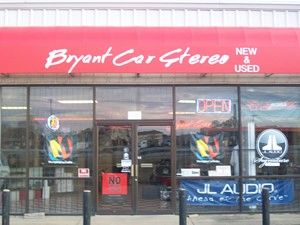 At Bryant Car Stereo, we take pride in stocking the best products available.  You won't find a better selection or price on car audio in the state. We also feature a wide selection of quality tested used merchandise.
We AUTHORIZED DEALERS for the following brands:
INSTALLATION BAY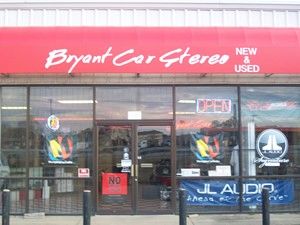 We feature one of the largest installation bays in the state.  With 4 installation bays and enough room to easily work on 5 vehicles at a time, we've got you covered. 









We have secure locking bays, an alarm system, and security cameras.  The bottom line...your vehicle is safe with us.






ACCESSORIES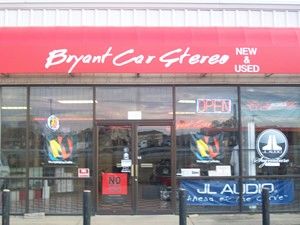 We stock the very best in accessories including Metra, Axxess, Tsunami, Memphis, JL Audio, Kicker, Dynamat, iPod, XM, and Sirius.
Our Customized Dodge Viper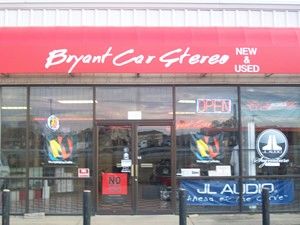 Our Dodge Viper is an example of the high end customization we are capable of at Bryant Car Stereo.  Some of the features include: